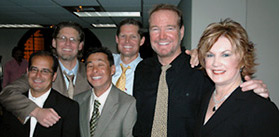 Stephen G. Krieger II
Mr. Krieger is a 5th generation Southern Californian entrepreneur who graduated from the University Of Southern California Marshal School Of Business. Originally Mr. Krieger started his business life as a founder and developer of a family owned and operated business in Santa Ana, CA. Then in 1999 made the transition to the business of dentistry via the relationship with Drs. Murray, Mar and Boyd. Living in North Tustin with his wife Tisja and three children, Mr. Krieger enjoys, flying, off-road desert racing and water sports.
Mary Stay
Mary Stay has been happily married to her Husband Mike for 40 years. Mike and Mary have two children and six grandchildren. She has lived in Capistrano Beach for over 25 years. Mary started with Dr.'s Murray, Mar and Boyd in 1997. She began as a treatment coordinator and was quickly promoted to manager and then partner. Prior to working in the dental business, Mary owned and operated her own retail business for 13 years. Mary enjoys shopping, interior decorating and of course, spending time with her family.
Dr. Gary Mar
Dr. Mar is one of the founding partners of Rancho Niguel Dental Group. He received a Bachelor's degree in Food Science and Technology from the University of California, Davis, and he earned his Doctorate from the University of Southern California in Los Angeles. At USC he became acquainted with Dr. Boyd, another of the founding partners. Prior to founding the dental group in Laguna Niguel, Dr. Mar was employed as the staff dentist for Merle Norman Cosmetics, and he was a Clinical Instructor in the Department of Periodontics at the University of Southern California School of Dentistry. Dr. Mar is a member of the American Dental Association, the California Dental Association, and the Orange County Dental Society. Dr. Mar keeps active with running and swimming, and he enjoys the beach, outdoor photography, cooking and gardening.
Dr. Rodney Boyd
Dr. Rodney Boyd is a USC School of Dentistry graduate and has been in practice for over 15 years. After graduating from USC, Dr. Boyd served on the faculty at the dental school in the Department of Periodontics as a clinical instructor. His experience ranges from cosmetics, implants, and all other forms of restorative dentistry. This has made him a true successful member of the community. In his spare time Dr. Boyd enjoys biking, running, traveling, playing volleyball, and spending time with his wife and two daughters. He loves the great outdoors and is a licensed pilot.
Dr. Hugh Murray
Dr. Murray is a fourth-generation native Southern Californian. He graduated from the University of California, Riverside, and Northwestern University Dental School. He has a vast post-graduate education in cosmetic dentistry, implants, and full-mouth rehabilitation. He is an active member of the American Association of Cosmetic Dentistry, American Dental Association, California Dental Association, and Orange County Dental Society.
Dr. Murray has a background in art (sculpting), psychology (UC Riverside), and business. He is dedicated to his profession and takes personal pride in his relationships with patients. He continues to be a pioneer in the field of cosmetic dentistry.
Dr. Anthony Boyd
Dr. Anthony Q. Boyd was born in Michigan. He attended Loma Linda University in Loma Linda, CA and following graduation he attended The Loma Linda School of Dentistry. After earning his DDS degree, Dr. Boyd completed a General Practice Residency at Hospitality Dental Group in San Bernardino, CA. Dr Boyd then entered into private practice in 1998 as an owner of Inland Dental Center. As a dedicated husband and father of three children, Dr. Boyd has many interests outside of Dentistry. He enjoys Snow Skiing, Water Skiing and Cycling.