• Visa
– A Vietnamese entry visa is required for all foreigners wishing to visit Vietnam except for citizens of countries having bilateral agreements on visa exemption with Vietnam. (Most ASEAN countries, please consult the Vietnamese embassy in your country).
– Before applying for a visa to Vietnam, you need to know how long you are planning to stay in the country. A single entry tourist visa for 30 days is easy to get. You need to contact the Vietnamese embassy in your country and ask for the visa application. You can also apply for a business visa, which gives you the opportunity to stay longer (3 or 6 months). Both visas can be extended once you are in Vietnam. Many travel agencies and hotels offer this service. Rates vary, as does the official policy regarding extensions.
– It might be possible to apply for a "visa on arrival". This method is quicker and cheaper.
• Picking up: IDC Danang can be easily reached by private car or taxi.
– If you would like, we can arrange a taxi to pick you up at the airport and take you straight to IDC DaNang for your first appointment.
– Or we can arrange a taxi to pick you up at airport and take you to your hotel. After an hour, the driver can take you to our office for your first appointment.
• Accommodations:

– Plenty of nice and reasonably priced hotels are available with prices ranging from 30 to 400 USD per night. The hotels take around 7 to 15 minutes to travel to IDC DaNang by taxi.
– Our team will be happy to assist you in finding the best hotel depending on your needs.
At Danang:
+ Hyatt Regency Danang
+ InterContinental Danang
+ Furama Resort Da Nang
+ Crowne Plaza Da Nang
+ Fusion Maia Da Nang
+ Grand Mercure Danang
+ Ocean Villas Danang
+ Pullman Danang Resort
+ D & C Hotel
At Hoi An:
+ The Nam Hai Hoi An
+ Sunrises Hoi An
At Hue:
+ Angsana Lang Co
• Attractions and activities:
1. Son Tra Peninsula named as Monkey Moutain.
+ Stop at Linh Ung Pagoda with the highest Budda Statue.
+ Stop for photos and visit old Radar station (Indochina miraculous Eyes in the 60's).
+ Conquer the old Heliport and the Peak of Chessboard.
+ Drive around the Son Tra peninsula to admire the beauty of the whole city below, visit the Nature conservation area, trekking to visit the one-thousand-year-old banyan tree…


2. Golf Course Montgomerie Links: Located only 15 minutes from the heart of Danang, Montgomerie Links has been designed to capitalize on its close proximity to both the warm, tranquil East Sea and the striking Marble Mountains – which are clearly visible from various points on the course. This course is truly a must with all Golfers.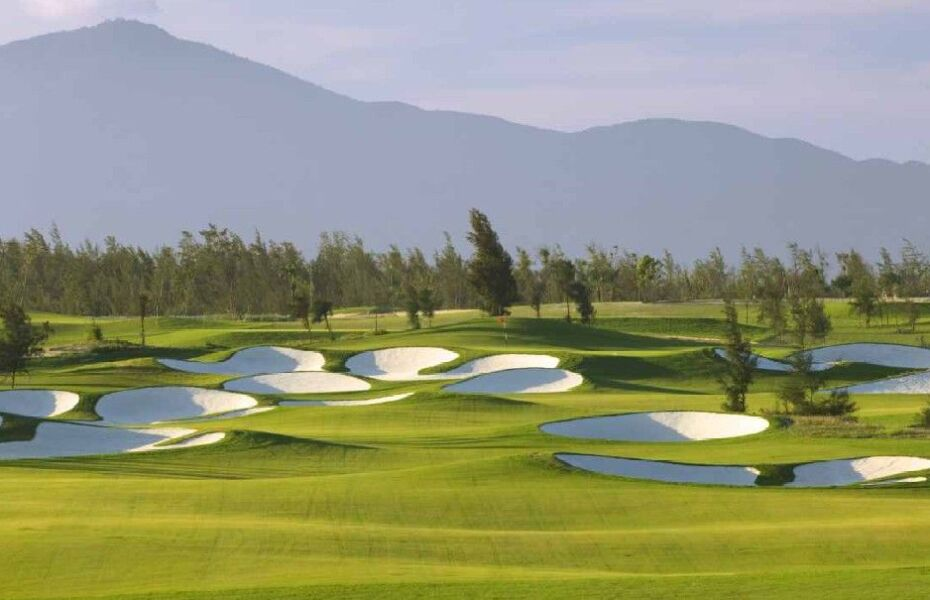 3. Cham Museum – the most special collection of Champa sculptures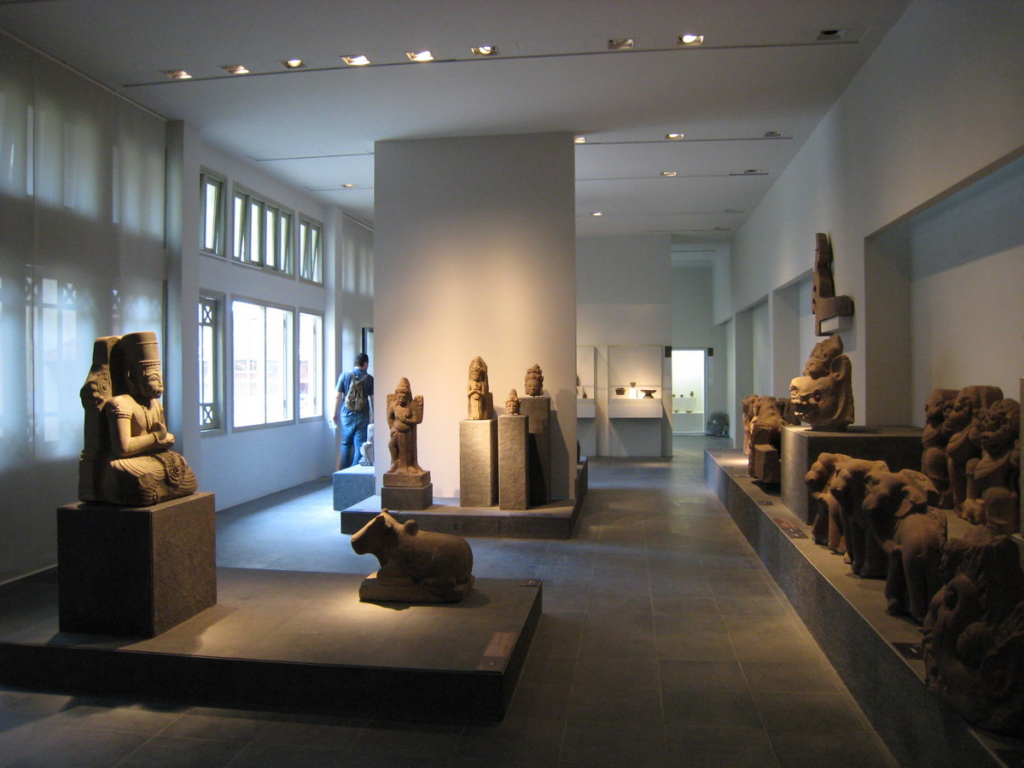 4. Ba Na Hills
   + Arrive at the cable car station. Sitting in the cabin, in midair, looking upon the endless tree lone of the forest, bring you with spectacular views of the lush jungle and Fairy waterfalls along the way. Experiencing the pristine ecological system of the Ba Na mountain will leave you a sense of unforeseeable discovery.
   + Visit the Le Jardin, old wineries – remains of French Villas and Linh Ung pagoda with 27m high Buddha statue.
   + Visit and play game at the Fantasy Park- Ba Na Hills Fantasy Park – the third largest indoor amusement park in the world (only some free games depending on Ba Na policy). Conquer the Peak of Chua mountain at the height of 1,487m. Leave Peak of Chua mountain, passing by Suspension Bridge.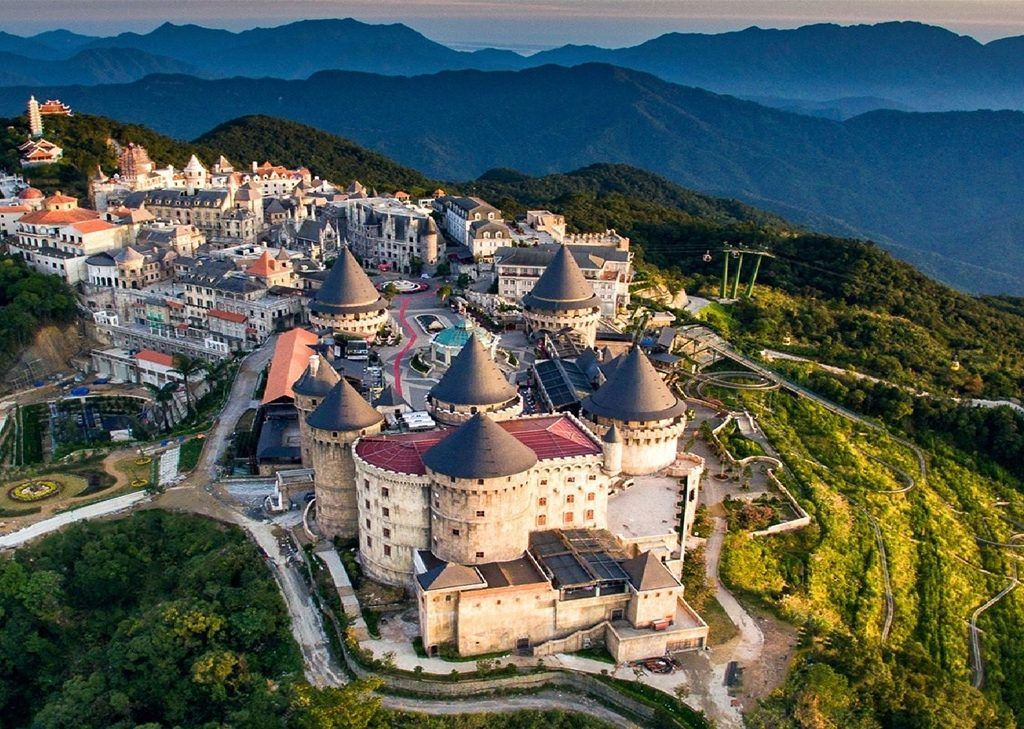 5. Marble Mountain
   + Climb up the most beautiful peak to discover beautiful caves and visit old national pagodas.
   + Visitors will be attracted strongly by many caves, statues and temples in the mountain of water.
   + Climbing 156 stone steps to reach the top, visitors will be greeted by the breathtaking panorama of Non Nuoc beach. Drop in the very famous traditional carving village to see skillful marble products by talent artists.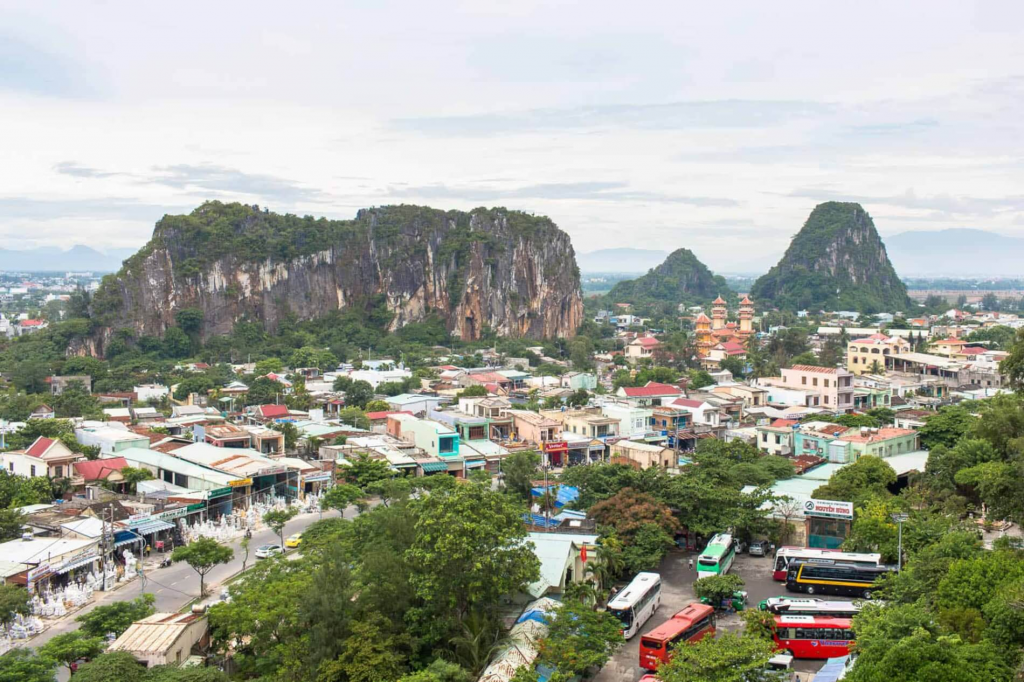 6. Hoi An Ancient Town: The old town of Hoi An has an alluring charm of local merchants and chick restaurants set in the old-worldly side streets whose architecture combines traditional Vietnamese designs with those of the French, Chinese and Japanese colonial eras.
   + Take a walking tour around Hoi An Old Town to see the well-preserved sections such as: Japanese Bridge, Chinese Assembly Hall, Historical and Cultural Museum, etc.
   + Shopping at your leisure. Visit the silkworm and handicraft workshop where Hoi An traditional handmade productions are skillfully performed.
   + Get on a boat and boating along Hoi An river (20 minutes).
Transfer to basket Boat. Basket Boat racing competition. Discover fishing life: rowing basket boat, pulling fishing net, casting a net, fishing crabs…
   + Cycling to Tra Que Vegetable Village. Join the farmers in preparing the land and fertilizing it with seaweed from the local lake, raking the ground, sowing, watering, and picking vegetables and many other gardening activities. Take a short rest and enjoy foot bath before getting lunch with many local delicacies including 'tam huu' spring roll, Banh xeo or local pancake of people in Vietnam middle region…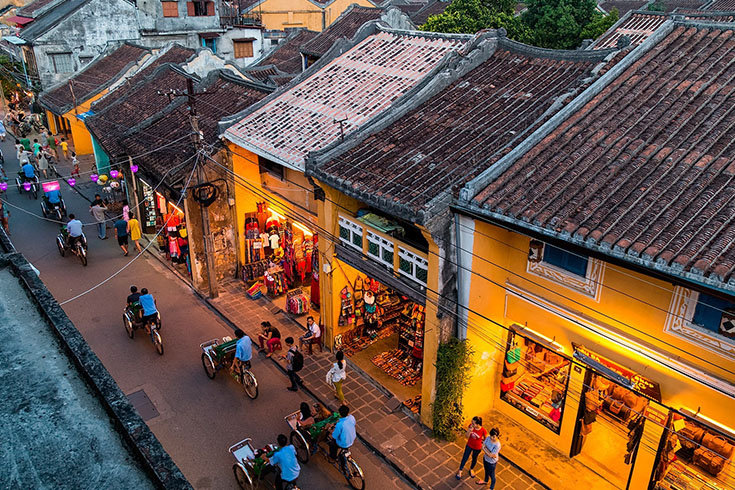 7. My Son sanctuary – UNESCO World (It is a 1.5 hour drive from Danang to My Son)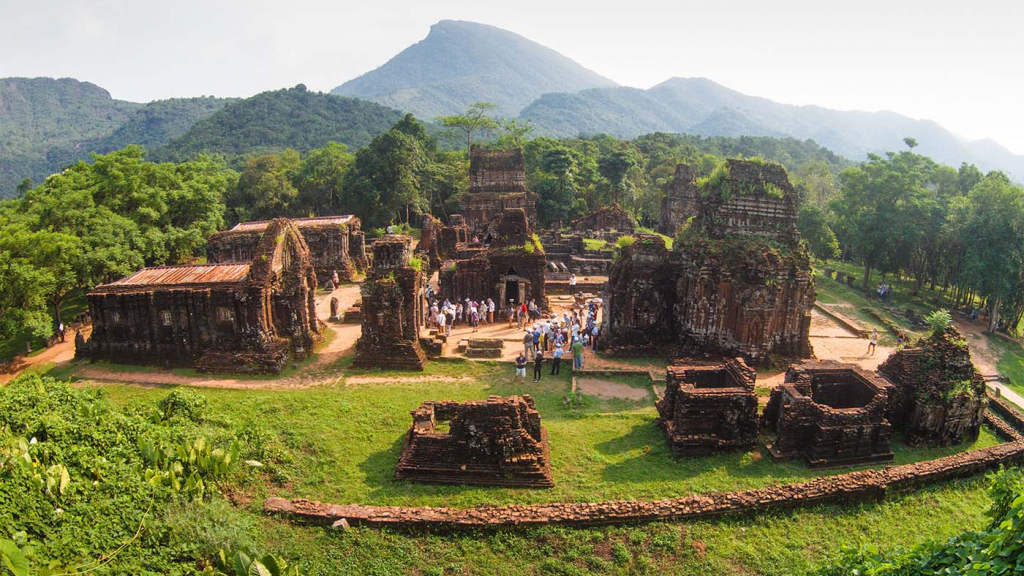 8. Hue City:
   + It is a 2,5 hour drive, then transfer to Hue city via Hai Van Pass – well-known as the most beautiful pass in Vietnam. Photo stops on top of the pass and Lang Co Beach.
   + Visit one famous tomb of Khai Dinh among the most beautiful royal tombs of Nguyen Kings.
   + Visit the Imperial Citadel built by Nguyen dynasty – the last dynasty of Vietnamese feudalism.